What do you get when you mix unwavering loyalty, endless patience, powerful ancestry and an undying love for the McClaine family? Well, throw secret super powers into the concoction, along with big, expressive brown eyes, and you get Sam, the best basset hound known to dog-kind!
Sam's been a happy member of the family since he can remember…and Dad, Mom, six-year-old Jack and baby sister Molly all love their doggy best friend just as much. Jack especially hangs out with his buddy Sam all the time – and is forever getting into mischief that Sam needs to "save" him from!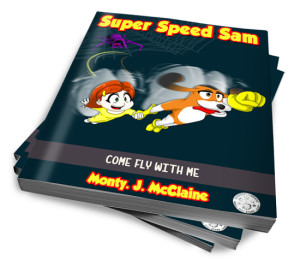 But, with those top secret super powers, passed down from his ancestors, Sam is able to switch into super speed with a quick chant, and is able to add extra helpful powers like sleuthing, cleaning and medical knowledge. There's nothing he can't handle!
Except…what if he somehow transformed out of his usual dog body and into a much, much smaller one? Would he still be able to use his secret powers to get out of scrapes? In this extra fantastical "Sam" adventure, he and Molly are about to find out!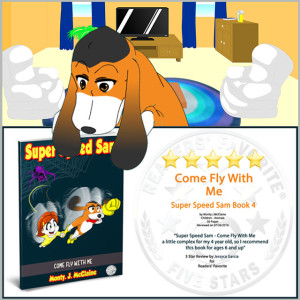 As the only human aware of Sam's secret abilities, Molly is beyond happy when he uses them to get her out of a very strange, very sticky mess – in a spider web. Somehow, she and Sam have magically transformed into two pesky flies for this story!
Full of humor, thrills and a few twists and turns, this mysterious "Super Speed Sam" episode will keep you and your little ones on the edge of your seats! Read Come Fly With Me! to find out if Sam and Molly survive Mom's newspaper, Dad's deathly chemicals and become human again – well human and dog!